Scraper TV
The Los Antonios mechanical dump scraper is designed for fruit tractors ranging between 50 and 90 H.P. Your storage capacity it is more limited (between one and two cubic meters). Comes equipped as standard with 700-12 "16PR radial wheels and allow a cutting capacity of between 1,300 and 1,700 mm.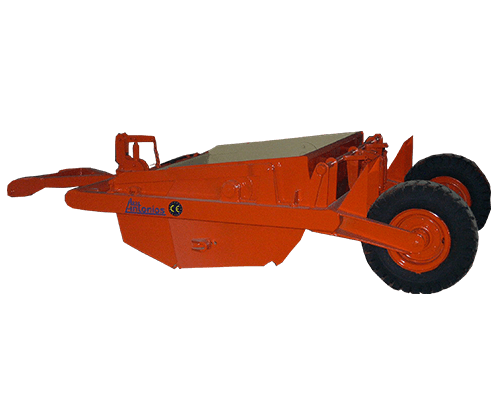 Technical specifications

2 Wheels 700-12″ 16PR
ModelTV015.130
A11300
B21600
C33350
D41110
Capacity (m3)1
Power (HP)50-60
Weight (Kg)960
ModelTV015.150
A11500
B21800
C33350
D41110
Capacity (m3)1½
Power (HP)60-70
Weight (Kg)995
ModelTV015.170
A11700
B22000
C33350
D41110
Capacity (m3)2
Power (HP)80-90
Weight (Kg)1030
Finance
If you are interested in financing your purchase of this product, Agrotécnica Los Antonios offer the possibility of working with the different banks with which the company has financing arrangements, which can cover up to 100% of your financing needs.
See more