Our headquarters
Agrotécnica Los Antonios have been contributing to the development of Tauste and the entire district for many years, not only through the permanent employment we provide, but also through the support we offer to the growth of other workshops and companies for which we manufacture parts and components for use in their own products.
Our contribution is also through the type of machinery we manufacture, which is destined for the endangered agricultural sector, for which the most important contribution that can be made is reducing costs.
Agrotécnica Los Antonios make all our products available for the continuing labour of an important but overlooked collective.
If you would like to meet us in person, you are welcome to visit us
C/ Santa Engracia s/n
50660 Tauste (Zaragoza)
Tel: +34 976 854 019
Fax: 976 855 302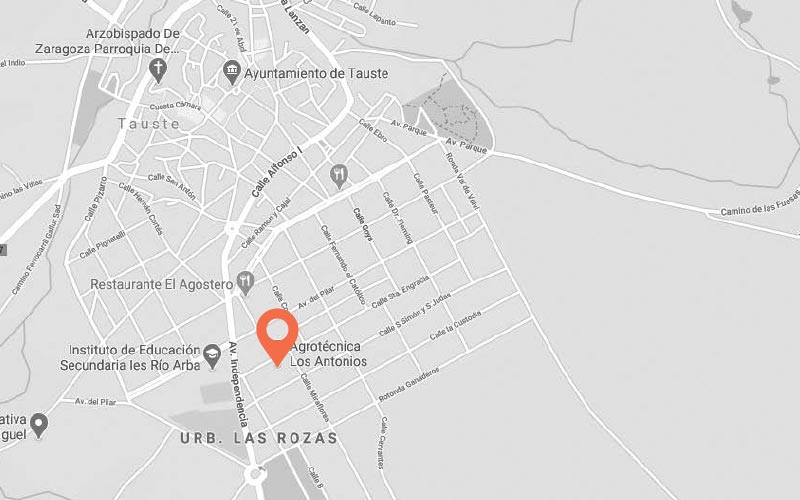 Delegations
National
Huesca

Barbastro

MAQUINARIA AGRICOLA J. MARCO, S.L.
Ctra. Nacional, 240 Km 163,25
22300

Marco - Fran
924 813 741 | 664 143 581
maquinaria@maquinariamarco.es

Lérida

Mollerusa

VICENS MAQUINARIA AGRICOLA
Ctra. Nacional, II – Km 486,80
25230

Vicens
973 600 450
vendes@vicensmaquinaria.com

Tarragona

Amposta

DELTA TRACTOR, S.L.
Camino de la Ferrereta, s/n
43870

Pedro
977 705 210
deltatractor@deltatractor.es

Valencia

Alginet

GBV AGRÍCOLA S.L.
Polg. Industrial Sur Parcela,7
46230

Eduardo
961 751 782
recambios@gbvagricola.com

Sevilla

La Puebla del Río

NIVELACIONES PINEDA S.L
C/ Doña Manuela Alvárez, 14
41130

Daniel
656 923 185
dpineda@losantonios.es

Badajoz

Don Benito

TECNOAGRI MAQUINARIA, S.L.
Polígono San Isidro,
C/ Cerro Gordo, s/n
06400

Michel Dunn
924 813 741
gerencia@tecnoagri.com

Murcia

Torrepacheco

AGROMECÁNICAS TORREPACHECO, C.B.
(Refinadoras y Equipos Laser)
Ctra. de los Alcázares, Km 3,5
30700

Mateo
609 678 940
agromecanicastp@gmail.com

Murcia

Fortuna

TRANSFORMACIONES HIJOS
DE MAYOR CLEMENTE, S.L.
(Traíllas)
Rambla Salada
30628

Ginés
622 582 510
mayorclemente@gmail.com

Palencia

Carrión de Los Condes

ENRIQUE AGUILAR PÉREZ
Ctra. de Fromisa, 2
34120

Enrique Aguilar
979 880 306
enriqueaguilaraguilar@hotmail.com

Galicia

Valle de Oro

TALLERES ROUCO
Rua Do Xistral, 23
27770

982 574 613
talleres_rouco@yahoo.es
International
Portugal

Branca - Muge

ARROGASPARES
Rua da Escola Velha Bhanca CCH
2100-607

Paulo Freitas
00351 243 605 054
geral@agrogaspares.pt

Francia

Deols

SARL
Vantage Atlantique-Mediterranee
36130

Frederick Saidi
00 33 609 58 45 33
f.saidi@vantage-am.fr