Hydraulic push scraper TH48-BP
Hydraulic push scraper with three cutting lengths 2.60 / 2.70 and 2.80 that make a capacity of 9m³ the new models (BP) grilles, shock absorbers, closed from behind and special fenders. For tractors with 240-260Cv of power.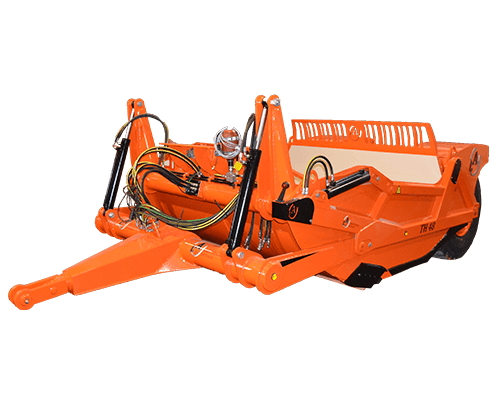 Technical specifications

2 Wheels 20/05-25
ModelTH48BP-2,60
A12600
B21000
C32400
D42800
E56710
F62020
Capacity(m3)8
Power (HP)200-240
Weight (Kg)7630
ModelTH48BP-2,70
A12700
B21000
C32400
D42900
E56710
F62020
Capacity(m3)8½
Power (HP)240-260
Weight (Kg)7780
ModelTH48BP-2,80
A12800
B21000
C32400
D43000
E56710
F62020
Capacity (m3)9
Power (HP)260-280
Weight (Kg)7980
Mast support included
Buffer included
Front and rear grid included
Optional
Hydraulic mast
Sequence valve
Fixed ripper
Anchor ripper with pipes ( without ripper )
Ripper with quick hitch
Anchor ripper rapid hitch with pipes ( without ripper )
Rear hitch without pipes
Rear hitch with 4 pipes
Rear hitch with 6 pipes
Scremed pirulo set
Pirulo assy for rear hitch
Central support gps
Automation ( laser / gps ) with hydrovalves
Automation ( laser / gps )with proportional distributor and preassure filtre
Finance
If you are interested in financing your purchase of this product, Agrotécnica Los Antonios offer the possibility of working with the different banks with which the company has financing arrangements, which can cover up to 100% of your financing needs.
See more